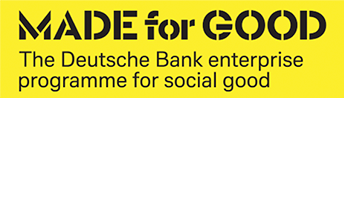 DBACE 2021 received 396 entries from across the UK. The level of creativity, entrepreneurship and positive impact being made to society was as astounding as ever among applicants.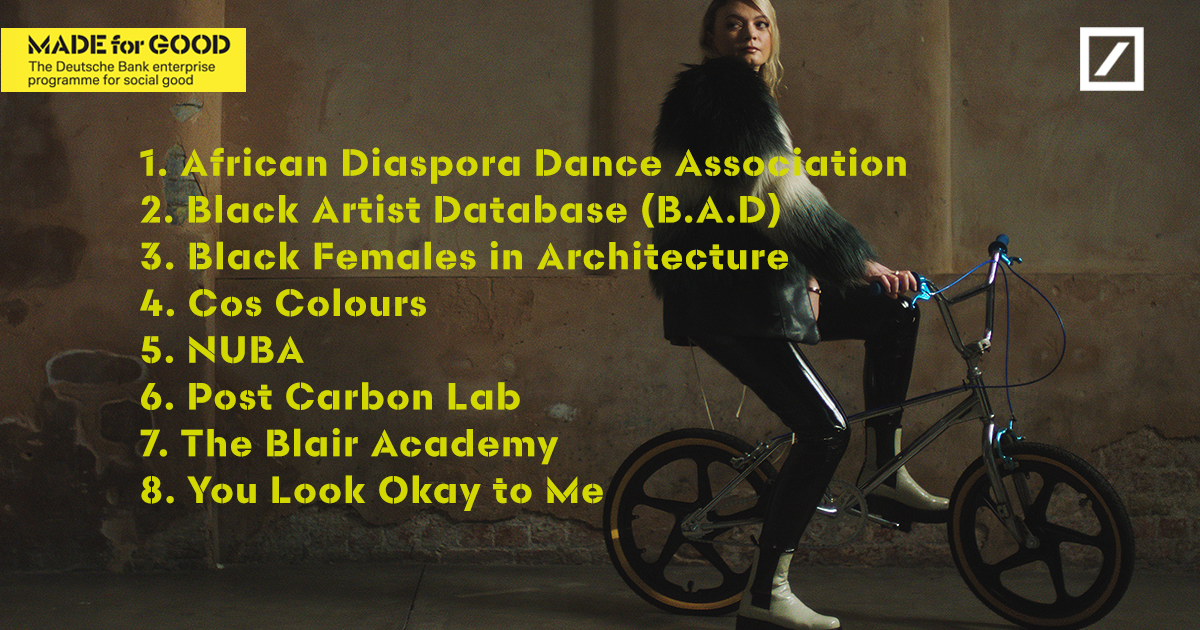 Judges for DBACE 2021
We were delighted to have brought together a group of experts in their fields to judge DBACE 2021. Panel members drew on extensive professional expertise across the creative industries and have many years of experience in leadership as well as setting up and supporting new businesses.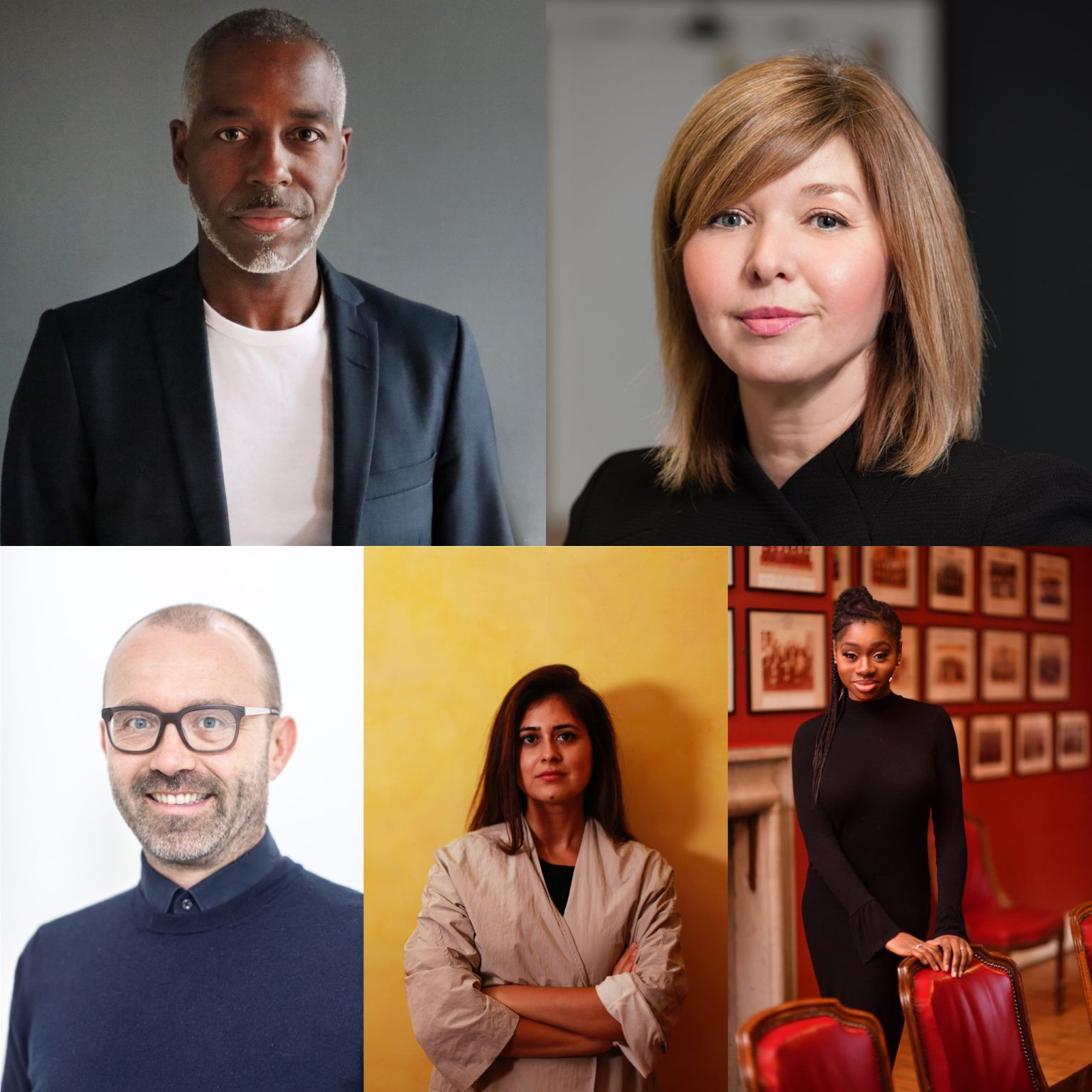 Kevin Osborne, Founder and CEO, MeWe360
Lareena Hilton, Managing Director, Global Head of Group Brand Communications and CSR, Deutsche Bank
Sam Barcroft, Media entrepreneur and consultant
Suhair Khan, Founder of Open/Ended Design and Strategist at Google
Tobi Oredein, Founder and CEO, Black Ballad, and DBACE 2019 winner
The winner announcement
In light of the ongoing pandemic and uncertain government guidelines, the award ceremony was hosted online. We announced the winners via an online event on June 30, 2021, after the final day of judging.
Hosted by Reuben Christian, comedian and supporter of creative entrepreneurs, we heard from each winner about their experience through the DBACE process. Lareena Hilton spoke about the fantastic spur in quality observed in DBACE 2021 and how pleased Deutsche Bank is to support these creative entrepreneurs driving positive impact. Kevin Osborne welcomed the winners to MeWe360 who, as delivery partner, will be providing the business support aspect of the DBACE prize and working with the entrepreneurs over the following 12 months.
What was said about the winners…
"Doing this is always one of the highlights of my year because it reminds me of why I do this work. It gives me a perspective of why we do what we do. These guys are the new revolution; the revolution that needs to happen if we're going to live in a fairer and more sustainable society."
– Kevin Osborne, founder and CEO of MeWe360
"For the entrepreneurs we have seen today, the resilience they have shown to maintain their successful businesses is nothing less than exceptional. The way they pivoted whilst maintaining their values to deliver social impact for the communities they support shows absolute commitment. Some were even founded after the pandemic began, so that display of determination and resilience shows undeniable passion during a very difficult time."
– Lareena Hilton, Global Head of Brand Communications & CSR, Deutsche Bank
"Today I heard some of the best ideas in ages. I've been so heartened by the fact that people are taking on massive problems and are having the guts to actually try and dig into some of the biggest challenges of our age. I have been super impressed by how people have looked at anxiety-inducing issues and are finding brilliant ways to turn those into great opportunities. It has made me feel very reassured and hopeful."
– Sam Barcroft, Media Entrepreneur and Consultant
"It takes a lot to put yourself out there – to send in an application, to show up, to go through the various rounds and to make yourself vulnerable. Each of you should remember that you believe in the idea that you are working on, no matter what you get from the outside. There is a reason you are all here, it's because you believed in yourselves."
– Suhair Khan, founder of Open/Ended Design and strategist at Google
"Believe in your business idea but also believe in yourself as the right person to get that idea off the ground. You have to be in it to win it if you are entering the awards. Here, you're not just investing in the business, you're investing in the founder. The companies which stood out today is when the founder had self-belief and was passionate and didn't shy away from their passion and confidence."
– Tobi Oredein, founder and CEO of Black Ballad, DBACE 2019 winner
Levels of support offered throughout DBACE 2021

The DBACE programme is designed so that throughout the application process there are opportunities to be inspired, connect and develop.
Online resources:
videos, guide to thinking about your business plan, resource directory, application tips, video pitch advice, A-Z glossary. Whether the entrepreneur applied to DBACE or not, the downloadable resources were available for all to benefit.
These resources were accessed over 6,300 times.
Information & guidance sessions:

We hosted a series of events including webinars, meet & greets and, with support from local partners,1:1 application support across the UK. A pitching workshop and practice sessions were also organised for the shortlisted applicants to prepare for the next stages.

Over 780 young people attended these events.
New resources:

DBACE 2021 focused on areas where creatives need support.
A financial forecasting webinar was provided along with a recorded version for those who couldn't attend. 109 participants attended the live record and the recording has since been viewed over 285 times. A forecasting template tool was provided with 168 downloads
.
A second popular video resource was also created for DBACE 2021 in which previous winners provided advice to future applicants in completing their submission. Top tips and tricks were shared. Visit our video section to find out more.  
Newsletters:

A series of newsletters was compiled with competition updates, tips and advice
.
Over 1,855 direct newsletter subscribers received this guidance.
Application form prompts and advice
:
Tips and prompts are included within the online application form and FAQs to help applicants respond to each question.
396 entrepreneurs completed their DBACE 2021 applications.
"Today I heard some of the best ideas in ages. I have been super impressed by how people have looked at anxiety-inducing issues and are finding brilliant ways to turn those into great opportunities. It has made be feel very reassured and hopeful."
Sam Barcroft, Media Entrepreneur and Consultant
Join our email list
Stay up to date on our latest news & events