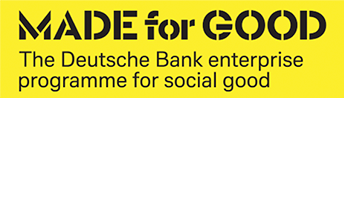 About DBACE
DBACE supports visionary creative entrepreneurs over 18 who are driven by a mission to build and sustain social value through their enterprise.
DBACE History
In the 30 years since Deutsche Bank first established the then Pyramid Awards, the programme has responded to changing landscapes of the creative sector. As one of the longest running creative enterprise programmes, DBACE still commands great prestige and has supported thousands of students in their creative studies to develop their skills and knowledge to prepare them for their future careers. Through start-up capital, business training and expert mentors from across the bank, the programme has nurtured more than 400 young adults and helped 320 creative ventures.
In 2018, DBACE shifted to celebrate and recognise the potential of young creative entrepreneurs between the ages of 18-30 who are driven by a mission to build and sustain social value through their enterprise. From its 2023 programme, DBACE has opened to all ambitious creative entrepreneurs over the age of 18.
DBACE actively aims to reach determined individuals from all backgrounds with ideas that will improve the lives of others and the communities we live in, via its network of referral partners and the suite of support events on offer to encourage applicants at different stages to submit a strong application.
Since 2018, Deutsche Bank has proudly partnered with MeWe360, a not-for-profit incubator, to deliver this unique programme.
It's not just about the money
The prize package is made of up of DBACE funding plus a year of tailored business support from MeWe360, designed to give you everything you need to take your idea or existing business to the next level.



To apply you need to:
— be over 18
— have a strong idea or an existing business in or in support of the creative industries
— want to create positive social impact through your enterprise
— be focussed and committed to engaging with MeWe's business support



You don't need to:
— have already set up your business.  We help people translate ideas into reality as well as grow existing enterprises.
— be experts in business. You just need to be ready to grow with your idea. 
See the 'Should I apply?' page for full eligibility criteria.



A call out to all talent
We want to make sure that talented people, from all backgrounds, with great ideas or existing businesses can apply. We understand that people are busy and not everyone is used to presenting their business model so we have tried to keep the application process simple. On this site you will also find lots of helpful resources, as well as advice, to support you in the application process.
About Deutsche Bank
Deutsche Bank has a long history of championing initiatives that drive positive change in society and is committed to helping build the long-term success of the UK creative industries. The global Corporate Social Responsibility social enterprise programme Made for Good supports the success of all kinds of entrepreneurial ventures that create wider social good, including microenterprises, start-ups, non-profits and commercial businesses.
The Awards are a natural extension of the longstanding commitment Deutsche Bank has to enabling economic growth and societal progress by creating positive impact in communities around the world.
About MeWe360
MeWe360 (MeWe) is a not for profit incubator for the creative industries and helps creatives develop thriving enterprises. MeWe has a roster of high calibre industry mentors and consultants as well as a vibrant membership network of creatives from across the UK. They are inclusive in their approach because they feel this best serves their mission of striving for a more equitable and representative sector.
They offer DBACE winners a mixture of mentoring and business support for leaders and entrepreneurs to reach their full potential.
Learn more about MeWe via their Instagram.