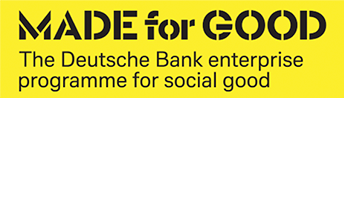 Since 1993, DBACE has helped creatives bring their ideas to life. Winning DBACE will give you:
— up to £20,000 investment to start or grow your enterprise
— membership to MeWe360's Incubator programme, including 12-months of business support with MeWe360 and Deutsche Bank's high calibre industry & business mentors
— recognition and the opportunity to raise your profile within the industry
— access to peer and influential industry contacts
— leverage to bring in additional funding and access to further investment opportunities
— specially tailored business and leadership training for the cohort of winners
To apply you need to:
— be over 18
— have a strong idea or existing business in, or in support of, the creative industries
— want to create positive social impact through your enterprise
— be focussed and committed to engaging with MeWe's business support

You don't need to:
— have already set up your business. We help people translate ideas into reality as well as grow existing enterprises at all stages.
— be experts in business. You just need to be ready to grow with your idea.
Find the full eligibility and judging criteria below. Please check you are eligible before beginning your application. 
+ Eligibility criteria
Entrants:
— Must be over 18.
— Can either apply with a well thought out idea or with an enterprise that has already launched. Please note, applications that require extensive technological Research & Development of a product are not eligible. If you are unsure if your business is eligible, contact dbace@mewe360.com.
— Must be able to demonstrate that a key driver for the business is to create positive social impact.
— Can be a not-for-profit, commercial idea or enterprise.
— Must own a material share in the business and be responsible for the direction and leadership of the organisation. This would normally include holding the title of CEO, Founder or Co-Founder. If applying as a group, then at least one applicant must hold title of CEO, Founder or Co-Founder.
— Must be able to demonstrate that the enterprise is within the creative industries or will create a clear service in support of the sector.
— Must be applying with an enterprise they wish to grow, rather than wanting support for a one-off project.
— Must commit to dedicating a minimum of 20-hours a week to the business in the 12-months after receiving the award, and to engaging with the Incubator programme, including wider group sessions, events, and training.
— From January 31, 2023 until June 29, 2024 applicants must legally reside in the UK. If applying as a group, then all of the applicants must legally reside in the UK within this time.
+ Judging criteria
DBACE is delighted to bring together a group of experts in their fields to judge DBACE 2023. All the panel members draw on extensive professional experience across the creative industries and have many years of experience in setting up and supporting new businesses.
The panel will consider the following criteria when judging applicants:
The social impact
—

The importance or criticality of the societal issues being addressed.
—

The ability to make a difference.
—

The ability to scale the organisation if successful OR the ability to influence the wider environment (e.g. on government policy) OR the quality/depth of impact achieved (i.e. you may be reaching smaller numbers but impacting people's lives at a deeper level than larger scale initiatives).
—

Does the business understand the impact of its business activities on people, places and profit?
The business model
—

Has the business demonstrated its business model (value, marketability, product or service, target audience, scope)?
—

 Does it have a unique selling point (USP) within the current market?
—

Does the business have a realistic, financial sustainable model?
—

Beyond our prize, is the business likely to attract investment?
Value-add
—

What specific milestones would the applicant be able to reach, with the receipt of the prize money and business support, that they wouldn't otherwise?
The team
—

Do the winning entrant(s) have the drive, resilience, capacity to learn and openness to development?
—

Did the entrant(s) present a convincing pitch?