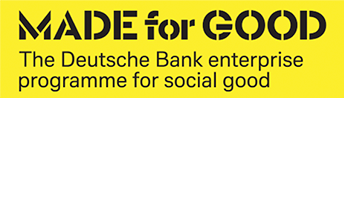 The Deutsche Bank Awards for Creative Entrepreneurs Alumni Programme
The journey as an entrepreneur never stops. Learning, growing and developing to move ideas and business forward. Each year, the DBACE Alumni Programme celebrates three previous winners seeking deeper intervention by providing a 12-month extension of tailored business support with MeWe360.
Find out more about the three select entrepreneurs who will receive support from July 2021 – June 2022.
Bethany Williams, founder of Bethany Williams London
Bethany Williams London is a clothing brand with a difference. Each garment is made from recycled and organic materials in the UK, working alongside social projects and local manufacturers in the production. Through a circular model, a percentage of sales from each collection is donated back to the collaborating charities.
Having scaled the team, increased the number of partnerships and public displays over the past year, as well as securing £200k worth of funding with BFC Vogue Fashion Fund, Bethany Williams London find themselves with an ever-increasing demand for collaboration and partnerships with industry brands. The next 12 months will focus on solidifying the social impact side of the business, establishing processes by which brands can collaborate without compromising the impact sought at every level.
Stacie Woolsey, founder of Make Your Own Masters

Make Your Own Masters (MYOM) is an independant art and design learning programme that enables individuals from any background to access a postgraduate level of education. MYOM tackles the financial limitations on accessing a postgraduate degree and focuses on making the industry a more exciting and diverse place. Through peer-learning and working on creative briefs from industry leading professionals, participants build a body of creative work, a professional network and gain crucial access to industry.
Having spent the past 12 months developing a business plan for the long term success of the business, Stacie is now in a position to roll out the planned activity. The next 12 months will focus on raising funds to allow Stacie to grow the business and take on two cohorts of learners per year, increasing the amount of learners and young professionals accessing the design industry.
Ndubuisi Uchea, co-founder of Word on the Curb
Word on the Curb is a multicultural research and creative consultancy that builds culturally fluent brands by overrepresenting, misrepresented communities. From research projects to content creation, Word on the Curb works with the likes of the NHS, Spotify and Mother London to improve their communications with traditionally marginalized groups.
The past 12 months focused on restructuring the young company's offering and adjusting their messaging, whilst gaining an understanding of the requirements for digitalising Curbsights into a technological platform. The next 12 months will focus on building this platform to allowing them to scale their activity and deliver more impact to the brands they consult and the communities they serve.