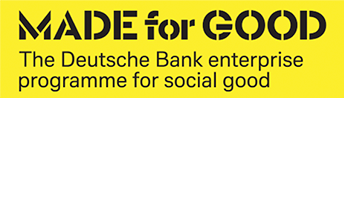 As part of the DBACE rebrand, we are offering an extra five memberships with
MeWe360
to creative entrepreneurs who drive social impact through their enterprise. The 12-month membership provides tailored business support to develop the entrepreneur and help them achieve their enterprise's next milestones.
DBACE 2019 demonstrated such talent that we wanted the opportunity to support five entrepreneurs on top of the five winners. The offer was made to DBACE shortlisted applicants as well as alumni whose mission falls within the new DBACE focus.
Selecting the five entrepreneurs to receive business support was based on the same criteria as DBACE 2019:
Social impact driven through the enterprise

Viability of the business model

Demonstrated entrepreneurialism through the team's leadership

Value-add that could be achieved via the 12-month membership with

MeWe360

.
Big People Music
Big People Music is a creative agency curating and producing art innovation projects worldwide, utilising a network of established and emerging creatives.
BPM is a progressive company that uses art as a tool to promote community cohesion.
BPM's services include creative consultancy & ideation, event curation, artist development and creative programming.
Founder: Tunde Adekoya
The initial phase Tunde's 12-month programme of tailored business support will focus on selecting the strand of work which will best drive his business forward.
black & brown
black & brown is a production company with the aim of producing films that centre the lives of members of the Black, Asian, and minority ethnic communities through the unique lens of BAME directors and producers. We are strongly committed to increasing representation in front of and behind the camera.

Founders: Cassie Quarless and Usayd Younis
The initial phase Cassie and Usayd's 12-month programme of tailored business support will focus on building their TV & Production company in terms of securing commissions from main TV channels.
hydroCotton
hydroCotton helps fashion brands reduce their environmental impact by growing radically sustainable cotton by:
1 – Growing cotton with up to 80% less water and fertiliser in a pesticide-free environment.
2 – Opening up windows throughout the supply chain, providing greater transparency and accountability from farm to fashion company.

Founders: Edward Hill, Edward Brial, John Bertolaso
The initial phase Ed, Ed and John's 12-month programme of tailored business support will focus on the negotiation of investment opportunities and brand partnerships.
Migrate Art
Migrate Art is a social enterprise that supports displaced communities by raising money for grassroots charities through contemporary art.
Founder: Simon Butler
The initial phase Simon's 12-month programme of tailored business support will focus on Migrate Art's strategic branding and PR.
Soundcastle
Soundcastle connects communities through expressive music-making and promotes broader imaginative thinking through coaching for creative practitioners, social entrepreneurs and training for arts facilitators. With developing action research hubs in East London, Sussex and Bristol, Soundcastle is seeking to further challenge and improve the quality of community music practice across the UK.
Founder: Rachael Perrin
The initial phase Rachael's 12-month programme of tailored business support will focus on developing a sustainable business model to support their charity aims.