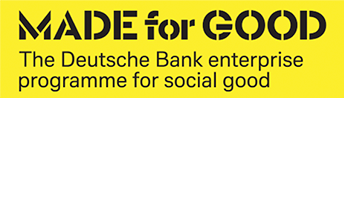 Chamiah Dewey Fashion
Chamiah Dewey Fashion is the UK's first clothing brand for people with dwarfism, offering stylish, timeless pieces, made in eco- conscious fabrics, produced in the UK. Starting with a measurement audit sent out to women with Dwarfism, Chamiah also developed the World's first tailor's dummy in the form of a woman with Achondroplasia.
"It's unique. She's going to be the first in many things and being the first is an absolute outstanding position to be in. Can you imagine setting the trends, setting standards, setting goals, being the first. That's uniqueness." – Jackie Davidson MBE, Founder, JD Management
Founder: Chamiah Dewey
DBACE funding awarded: £15,000
Convenience Gallery
Convenience Gallery is a non-profit arts organisation. Working with contemporary artists and local people to build together fun, exciting, innovative and challenging art projects. Placing them into public spaces with the outcome of bringing people together. Based in Birkenhead, Convenience Gallery operates in a pop-up format at community locations. Their work creates a platform for the local community across the Northwest, UK and has a global reach.
"Convenience Gallery are bringing together social, cultural and economical impact into one effective project." – John Newbigin OBE, Co-Founder and Chair of Creative England.
Co-directors: Andrew Shaw & Ryan Guage
DBACE funding awarded: £10,000
Journo Resources
Journo Resources provide tools and resources that are free for everyone to use, run and attend events both online and IRL, and provide detailed and long-form advice for anyone that needs it.
"There are far too few people and organisations working to make the media industry a better place and Journo Resources does that from the ground up." – Bola Awoniyi, Co-Founder & COO, Black Ballad
Founder: Jem Collins
DBACE funding awarded: £10,000
Pivot
Pivot is a social enterprise that empowers people experiencing homelessness to make incremental positive changes to their lives. Through their uniquely designed 12-week long programmes, Pivot have proven to be pioneers in providing flexible and meaningful employment opportunities in hostels, facilitated by people with lived experiences.
"Pivot is a brilliantly simple and effective business model." – John Newbigin OBE, Co-Founder and Chair of Creative England.
Co-Founders: Sabella Ibáñez, Alice Moxley & Jason Thompson
DBACE funding awarded: £15,000
TAG Agency
TAG Agency is a youth culture & marketing agency that transforms young lives through the power of culture, community and stories. They offer brands the opportunity to meaningfully connect with culture, and at the same time, create space and opportunity for young people to work on brand strategy, research, campaigns and creative projects.
"Not only are they focused on providing a credible voice to youth culture and to young people, they also want to make sure the young people are treated correctly when doing that. So, it was creating the voice on one side and then the opportunity and the ability to be treated correctly, on the other. That is the difference they provide." – Lareena Hilton, Global Head of Brand & CSR, Deutsche Bank
Co-Founders: Alvin Owusu & Tumisha Balogun
DBACE funding awarded: £10,000
Join our email list
Stay up to date on our latest news & events