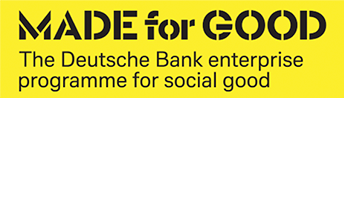 Bethany Williams London
A clothing brand with a difference. Through collaboration with communities and charities, founder Bethany Williams creates collections embedded with real stories and aims to have a positive impact in the social space she engages with through the power of making.
Each garment is made from recycled and organic materials and made in the UK, working alongside social projects and local manufacturers in the production. Through a circular model, a percentage of sales from each collection is donated back to the collaborating charity.
Bethany Williams London also provides consultancy to established fashion brands to promote this alternative system for fashion production and ensure that the fashion industry is harnessed to create social change rather than exploitation.
Founder: Bethany Williams
DBACE funding awarded: £10,000
The initial phase of Bethany's 12-month programme of tailored business support will focus on developing trademarking and IP protection, and building a team to enable the company to grow and secure investment.
Enayball
A new visual arts tool designed to enable anyone with a physical disability, even the most severely paralysed person, to create art. Enayball can be attached to a wheelchair or used on a tabletop. The wheelchair application is at floor-level and paints a line as the user moves their chair.
The user lifts the nib off the floor remotely, to control the paintbrush. The tabletop application is for people with limited grip/arm strength or experiencing involuntary movements, e.g. Cerebral Palsy. It is controlled using a button which applies the nib to paper and removes the need to hold a pen/paintbrush and apply pressure.
Having built connections with disabled artists who are now championing the start-up, most notably Alison Lapper MBE, co-founders Eli Heath and Pete Barr address the barriers-to-entry for people with disabilities who seek to participate in the arts and creative expression through human-centred design.
Co-founders: Eli Heath & Pete Barr
DBACE funding awarded: £8,000
The initial phase of Eli and Pete's 12-month programme of tailored business support will focus on generating income, building a strategy for scalability as well as building a strategy for business sustainability.
Make Your Own Masters
An art and design learning programme that enables individuals from any background to access postgraduate level education. MYOM tackles the financial limitations on accessing a postgraduate degree and focuses on making the industry a more exciting and diverse place. Through peer-learning and working on creative briefs from partners, participants build a body of creative work, a professional network and gain crucial access to industry.
Since independently completing her own MYOM education, Stacie has rolled out a pilot phase with a cohort of 10 learners who are currently enrolled and gaining their education through the programme. Stakeholders such as Selfridges, the Design Museum, and Somerset House are all currently onboard with trailing MYOM as a way to inject life into the industry.
Founder: Stacie Woolsey
DBACE funding awarded: £9,000
The initial phase of Stacie's 12-month programme of tailored business support will focus on building a sustainable business model, developing a fundraising strategy, and looking at how Stacie's facilitation skills can build business with corporates.
Standing Ovation Project
A community hub in Birmingham which provides a platform for children to learn new creative skills through their in-house workshops as well as a space to showcase their work. An in-house radio station will give voice to pupils involved, develop their music production, DJing, and singing skills, whilst building upon important softer social skills.
Since founding Standing Ovation Project in 2016, Anthony has been delivering services to pupils in schools to raise the self-esteem and confidence of young people through the creative arts and pastoral support.
Already working with 54 schools in 13 cities across the East Midlands, West Midlands, and London, Standing Ovation Project seeks to further expand their reach across the UK and uplift children most in need.
Founder: Anthony Daulphin
DBACE funding awarded: £5,000
The initial phase of Anthony's 12-month programme of tailored business support will focus on getting his venue ready for community use, raising finance, and marketing the offering to schools.
Word On The Curb
A youth insight and content agency, which stands to connect with underrepresented Millennial and Gen-Z audiences. Its research department has an unmatched understanding of young consumers to consult major organisations on their creative campaigns. Over the past six years, strategies have been devised for the likes of the NHS, Channel 4 and the BBC on how to connect with similar demographics. As part of their social impact model, for every company they work with, they up skill a young person in film production.
Word on the Curb will now launch a dedicated digital platform for the insight service they offer businesses, Curbsights. With systemic diversity and representation issues in the research and data industry, Curbsights will provide a scalable, accessible way for businesses to access the opinions of young people from hard to reach demographics, utilising this understanding to improve their marketing and communications.
Co-founders: Ndubuisi Uchea & Hayel Wartemberg
DBACE funding awarded: £18,000
The initial phase of Ndubuisi and Hayel's 12-month programme of tailored business support will focus on receiving expertise on how to get the tech platform right for scaling, and marketing and strategy support as they shift their business offering to focus on consultancy provision alongside data and insight generation.
Join our email list
Stay up to date on our latest news & events